Company Overview
Earth Dynamics LLC is a full service geophysical consulting firm that has provided professional services to government and industry since 1984. Prior to 1996, the firm operated under the name of its founder, Dr. Michael Feves. Earth Dynamics has earned a reputation for using innovative approaches to complete challenging projects on time and within budget.
Requirements for individual projects vary widely. Dr. Feves and his staff know the capabilities and limitations of each technique and type of instrument. Your project will be tailored to the specific site conditions and data requirements to provide the best information for the lowest cost.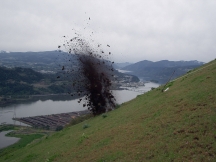 During the past 25 years, our projects have ranged from urban seismic refraction surveys on the streets of Portland, Oregon to underwater geophysical surveys in Lake Superior. We have completed vibration analyses that range from forensic analysis of bearing failure on a silicon wafer polishing machine to dynamic water overpressure measurements during blasting at a concrete arch dam. Our staff is experienced in complete projects in many different environments and terrains. See our Applications page for more information on what geophysics can do for you.
Call us today at 503-227-7659 to discuss your project!